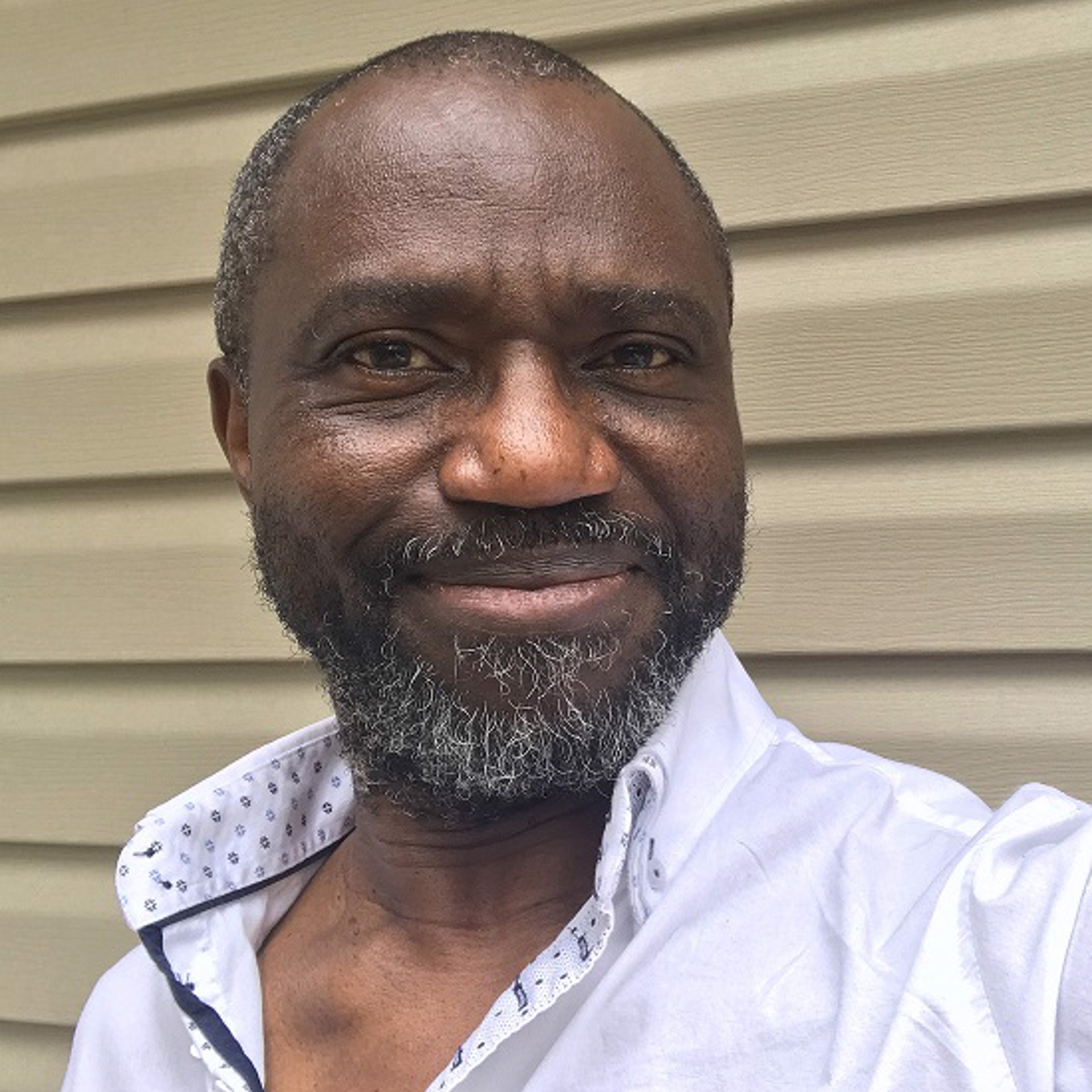 (New York b. Nigeria)
THE TANGIBLE AND INTANGIBLE
I explore the light sheen of graphite, the matte, light absorbing quality of black pastel, the white of paper and canvas, as well as the visually affecting interactions of colors to investigate form and its evocative potential to suggest or hint at something about the shape of the head. I am interested in the dualism of form and void, and the ontological relation between the tangible and intangible, something and nothing, light and dark, body and mind, the dual nature of being - the self in portraits.
The construction of a sense of self is a very complex process, perhaps even more so in our increasingly global age, in which the boundaries between race, nationality, gender and sexuality are getting more and more blurred. I am interested in issues of self identity, and in concepts of the self rooted in my cultural experiences growing up in Nigeria, as well as global metaphysical, scientific, and social concepts of the self. There is a Yoruba thought that consciousness, referred to as the "head", has both a physical dimension called the "outer head" and a non-physical one: "the inner head". It is the visual implications of concepts like this that I find intriguing. The title, Self-Portrait, in my work, is more about the portrait of the intangible self, rather than a literal portrait of the artist.- OSI AUDU
Osi Audu is a Nigerian-American artist who received a B.A. in Fine Art with First Class Honors from the University of Ife, Ile-Ife, Nigeria, and an M.F.A. in Painting and Drawing from the University of Georgia, Athens, Georgia, USA. He has been exhibited at, and collected by, public Institutions including the Smithsonian Institution's National Museum of African Art in Washington, D.C., The Newark Museum in Newark, New Jersey, USA, The British Museum and the Horniman Museum, both in London, and the Wellcome Trust Gallery in London. Audu's work has also been exhibited at the Tobu Museum and Setagaya Museum, both in Japan, the Liverpool Museum in England, the Science Museum in London; and acquired for corporate collections including Microsoft Art Collection, Sony Classical New York and the Schmidt Bank in Germany.
OSI AUDU
(NYC, b. Nigeria)
EDUCATION
1994 P.G.C.E. Canterbury, Christ Church College, University of Kent, England.
1984 M.F.A., Painting and Drawing., University of Georgia, Athens, Georgia, USA
1980 B.A. First Class Honours, Fine Art. University of Ife, Ile-Ife, Nigeria.
PUBLIC COLLECTIONS
Newark Museum
The British Museum
The Horniman Museum
The National Museum of African Art, Smithsonian Institution, Washington DC, USA
Wellcome Trust London
National Gallery, Lagos
Nigerian High Commission, London
Iwalewa-Haus, Universitat Bayreuth, Germany
Schmidtbank, Bayreuth, Germany
Addax and Oryx Group, Switzerland
Swiss Embassy, Lagos
Microsoft Art Collection
Mr. AUDU has been represented by Morton Fine Art since 2012.
Read More